NTU Singapore
During the summer after my junior year I competed in my first business plan competition, which I had heard about through the University of Washington Science and Engineering Business Association (SEBA).
A group of students from the Nanyang Technological University (NTU) in Singapore came to UW as part of their Technopreneurship and Innovation Program. A student from UW joined each team to assist.
The main project during their stay in Seattle was to take a piece of intellectual property from the UW Center for Commercialization (formerly UW TechTransfer) and come up with a product using the technology to create a business plan around.
The technology my group chose was called Microcellular Plastic. This is a method to foam plastic which reduces its density. We learned that a biodegradable plastic called polylactic acid (PLA) could be used with this process; our product would be biodegradable chopsticks. Our team had the following reasons for choosing this product:
Reduce deforestation in China
Foam process uses less material
Biodegradable plastic reduces solid waste
Disposable chopsticks address hygiene concerns
Over the course of two weeks we put together a business plan for our idea and presented to a panel of four judges.
After coming up with the product idea, we started doing research on the chopstick industry. We found information on the current problems with wooden and reusable plastic chopsticks in order to position our product. We were able to meet with Krishna Nadella, the co-founder of MicroGREEN Polymers, the company that is currently licensing the technology we were given. He was able to help us with pricing information and startup costs for our product. From this information we created several pricing schemes for our product, one of which involved using a food grade ink to print advertisements on each chopstick. This would allow us to sell the chopsticks at a lower price than what was already available.
After writing our business plan we were involved in a poster presentation session followed by a presentation to four judges. Below is a picture of my team during the poster presentation.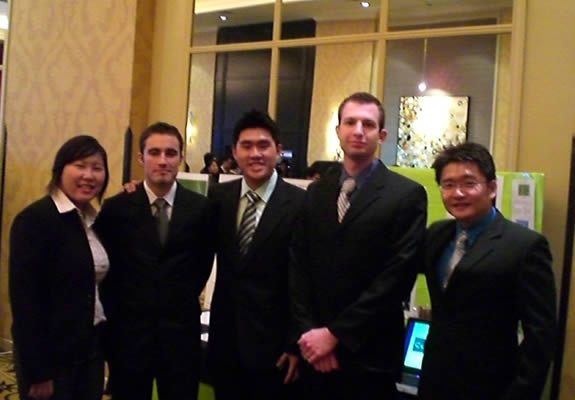 Photo: Lee Hui Wen, Ryan Longhurst, Kenny Chua, Erik Roby, Hendri Zhang (left to right)
Team members: Kenny Chua, Ryan Longhurst, Lee Hui Wen, Hendri Zhang